Which materials and technologies has 3M created? How has it sustained an innovation culture for more than 100 years? What's on the 3M innovation roadmap?
Over 100 materials scientists, product designers, industrialists and students were able to find the answers to these questions and more during a Materials and Design Exchange (MaDE) visit to the 3M Customer Innovation Centre, Bracknell, on 2 December 2016.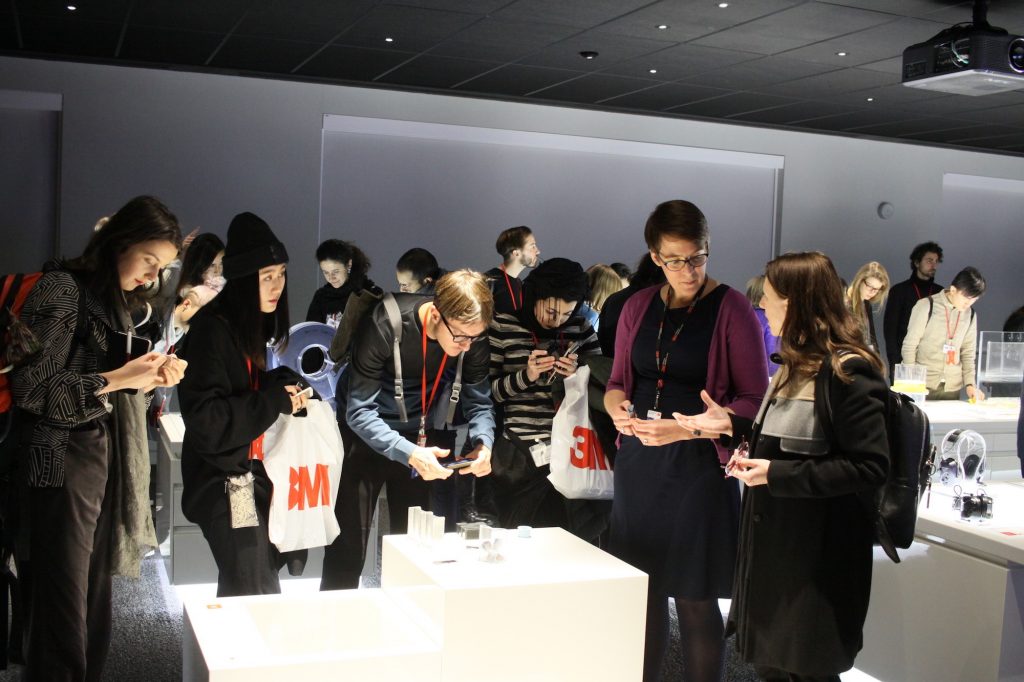 MaDE is a partnership connecting materials science and design to stimulate innovation. Founding partners include the Knowledge Transfer Network, Institute of Materials, Minerals & Mining, Institution of Engineering Designers, Loughborough University and the Royal College of Art.
The Customer Innovation Centre at Bracknell has been created to share the 3M story of innovation and collaboration with customers and business partners, as well as young scientists, designers and engineers of the future. It showcases a wide range of 3M's 55,000 product lines, from digital stethoscopes for earth-bound doctors to listen to the heartbeats of astronauts to concrete material so light that it floats.
Dr Robert Quarshie, Head of Materials, Knowledge Transfer Network and Chair of the MaDE Partnership set the scene by saying "MaDE challenges material scientists to consider applications and provides product designers with material options, thus turning ideas and technologies into products the market wants."
Responding, Dr Phillip Kennedy, 3M Senior Lab Manager, External and Digital Innovation, agreed that "it's not magic, it's the right science applied in the right way – while research is the transformation of money into knowledge, innovation is the transformation of knowledge into money." Quoting Inge Thulin, 3M Chairman, President and CEO, he added: "innovation is our biggest competitive advantage and the heart of the company".
At 3M, successful innovation is in part driven by employees, who are seen as 'local experts, globally connected', and expected to both innovate and share their ideas/ expertise outside their own specialist areas. "Hybridisation across sectors is key to 3M materials innovation."
There is always an aim of finding unexpected applications for innovation, and 'failure' is not only tolerated but expected. As Dr Art Fry, inventor of the Post-it® Note, said, "never throw away an idea, you never know when someone else might use it". Customer inspiration is another route to groundbreaking solutions, and Dr Kennedy gave the example of Ford Motor Company's introduction of two-tone cars, which led to 3M inventing masking tape..
Building on the theme of disruptive innovation, Andy Fish, Technical Service Specialist for Traffic Safety Systems, discussed 3M's work on retro reflective materials to enhance traffic sign visibility, noting that "electric light did not result from constant development of the candle".
Dr Antonio Pagliuca, 3M Senior Specialist, Industrial Adhesives andTapes, brought the science behind modern adhesive technologies to life, and proposed that multi-material bonding offers a solution to many everyday design challenges. He surprised many of the guests by demonstrating that 1sq cm of adhesive can support a 200 kilos weight.
Taking 3M into the future, Global Innovation Leader Dr Ben Watson brought a design background to his review of the intelligent transport R&D centre at Bracknell: "the future of intelligent infrastructure and materials will need to be more scalable and extensible than ever before, to move with and enable the rate of change that will be necessary for a more connected transportation network for autonomous and connected vehicles. Open standards and interoperability will be key."
"By combining 3M's expertise in micro replication, computer vision, sensors and software analysis we aim to develop not only human-readable but intelligent infrastructure, road markings and signage that provide safety and security for road users and the transportation network, even in the worst conditions."
A team of 3M Navigators was on hand to guide the MaDE guests through a tour of the interactive showcase at Bracknell – from donning artificial reality headsets to learning about respiratory protection and testing the latest Post-it Notes. A young designer commented "it was great to have such a tactile exhibition, with demos and explanations to go with the curation", while a senior industrialist valued the opportunity to speak directly to 3M staff in such an inspirational setting.
Reflecting on the day, guest Peter Stephenson of Sefton Technologies noted that "3M has a very successful history of innovation with a high percentage of sales arising from new products developed over the previous 5 years. This has been maintained over decades".
"They develop and maintain broad technology platforms which underpin the business activities. Key technical expertise is not specifically owned by a particular business allowing multidisciplinary teams to be assembled to tackle new product development. This results in agility and flexibility. When businesses become mature the expertise can be applied to new areas".
Anne Toomey, Head of Textiles at MaDE Partner the Royal College of Art added, "there was a great buzz of interest and energy during the 3M visit. I really felt and saw significant progress with the connectivity and integration of the materials and design communities. For example, Burberry now employ material scientists to work alongside their design team. They were here today, along with BP, Crown Technologies, Jaguar, many SMEs in the supply chain, and a talented group of young designers interested in working across disciplines. 3M is a fantastic example of the MaDE vision in action – materials science inspiring and enabling design innovation, and design accelerating the development of fit-for-purpose materials".
Did you know?
3M was founded in 1902 and has:
90,000 employees, 60% international
200 manufacturing plants in 40 countries
35 global R&D labs, including 5 in the UK
55,000 product lines
R&D spend $1.8 billion (over 5.8% of sales)
Global sales $ 30.3 billion
Net income $4.8 billion
The company is organised in 5 business groups:
Consumer
Electronics & energy
Health care, including dentistry & drug delivery
Industrial, including automotive
Safety and graphics, including traffic signage and intelligent systems
Further information
3M Customer Innovation Centre, Bracknell, UK: http://solutions.3m.co.uk/wps/portal/3M/en_GB/customer-innovation-centre/-/